The High Pay Centre is an independent, non-partisan think tank focused on the causes and consequences of economic inequality, with a particular interest in top pay. We run a programme of research, events and policy analysis involving business, trade unions, investors and civil society focused on achieving an approach to pay practices that enjoys the confidence of all stakeholders.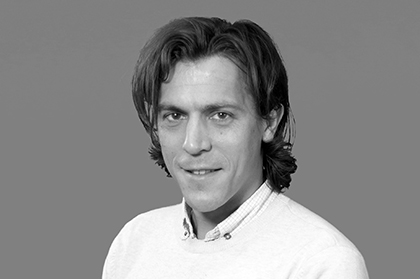 Luke previously worked as Deputy Director of HPC from 2012-2015. He was subsequently Policy Lead for Corporate Governance and Stewardship at the Pensions and Lifetime Savings Association, the trade body for UK pension fund investors, before returning as Director in March 2018. He has authored reports on subjects including inequality, corporate governance and responsible investment and has also previously worked for a number of think tanks and in local government.
Andrew Speke
Head of Communications
Andrew joined the High Pay Centre in July 2019. They have been a passionate campaigner since their student days at the University of Manchester when they were involved in a number of campaigns on climate change and tuition fees and held the Environment and Ethics portfolio on the Student Union's Council. More recently they spent 5 years working for the EU and UK governments in China in a number of different roles, including leading the UK's cooperation with China on projects focused on poverty reduction and tackling inequality, including on the rise of CSR and corporate philanthropy in China. Andrew holds an undergraduate degree in Chinese Studies from the University of Manchester.
Funding for 2023 (to date):
abrdn Financial Fairness Trust – £16,300
Barrow Cadbury Trust – £18,750

Chartered Institute of Personnel and Development (CIPD) – £20,000
Trust for London – £43,650
abrdn Financial Fairness Trust – £80,000
Barrow Cadbury Trust – £22,500

Trades Union Congress – £10,500

Trust for London – £37,000
abrdn Financial Fairness Trust – £20,000
Barrow Cadbury Trust – £30,000

Joseph Rowntree Charitable Trust – £45,000
Trust for London – £37,000
Barrow Cadbury Trust – £31,500

Joseph Rowntree Charitable Trust – £45,000
Standard Life Foundation – £42,000
Trust for London – £36,500
The High Pay Centre was launched by Deborah Hargreaves, formerly a leading business journalist at the Guardian and Financial Times, following the final report of the High Pay Commission. The Commission led by Deborah published its first report in 2011, led by Deborah working alongside commissioners from the trade unions, NGOs, politics and the investment industry.
At the time the Commission was convened, the UK was still grappling with the aftermath of the financial crisis – and yet with jobs and livelihoods under threat, and the country about to undergo a decade of public service cuts and pay stagnation for ordinary workers, pay for the CEOs of FTSE 100 companies (including many of those that played a key role in sparking the recession) stood at £4 million, while the share of total incomes accruing to the richest 1% stood at around 12% – more than double what it had been three decades earlier.
With the UK one of the most unequal economies in the developed world, the Commission agreed that an independent non-partisan think tank focused on pay at the top of the income scale and the causes and consequences of economic inequality, was needed on a more permanent basis.
Since then HPC research and policy analysis have influenced policy change, public debate and business practice on subjects including corporate governance, investment stewardship and employment rights.
Our research publications are amongst the definitive data sources used to inform understanding of pay and inequality in the UK. Our commentary and analysis is frequently cited in the media. And our events bring together policymakers, business figures, NGOs, academics, trade unions and other stakeholders to discuss the pathway to fairer pay, worker voice and better business.
To get occasional updates on our work sign up here.
The High Pay Centre's work is dedicated to achieving a fairer pay distribution and reducing
 

inequality in the UK.
The pay practices of major employers are a critical determinant of people's living standards. The balance between profits for investors and wages for workers, as well as how those wages are distributed between high, middle and low earners, have a profound impact on people's incomes and thus their chances of a happy and fulfilling life.
Research also suggests that vast gaps between those at the top and everyone else are immensely damaging to social cohesion, democracy, political stability and public health and wellbeing.
Our research focuses on policy and business practice in areas such as corporate governance, employment rights and tax with a view to achieving better pay and conditions for low and middle income workers. We want workers to have greater say over their day-to-day working lives and businesses to make serving people and planet, rather than profit, their primary purpose.
Worker representation on boards and remuneration committees should be mandatory for all major companies. Worker representation can help to ensure that the interests and views of workers are taken into account on issues including pay and conditions. It can improve decision-making by increasing diversity of thought and experience. In countries such as Germany where these policies already exist, there is lower inequality and evidence of companies with stronger worker voice having a better record of acting in the public interest.
There is an urgent need for us to move from a shareholder model of capitalism, driven solely by the pursuit of profit, to a stakeholder model where business serves the interests of society rather than vice versa. From Davos to the Business Roundtable, even some of the world's most powerful businesspeople have publicly stated that business needs to significantly improve its social and environmental impact. Statements such as these must now be translated into actions. In the UK we advocate reforming the Companies Act to change the responsibilities of directors from being legally required to prioritise shareholders to one where the interests of workers, consumers, wider society and the environment are given equal priority.
There is strong evidence of a correlation between the strength of trade unions in a country and lower inequality. In the UK the gap between the lowest and highest paid at listed companies began to grow rapidly in the 1980s with the introduction of anti-union legislation and the decline of trade union membership that followed. While trade union membership in the UK has increased in the past three years, levels remain low compared to many of our European neighbours and to historic levels. In a country where low-paid, precarious work proliferates, with one of the widest gaps between rich and poor in the developed world, stronger rights and representation at work are vital to our prosperity. We believe that strengthening trade union rights and expanding collective bargaining coverage is crucial to tackling the twin scourge of poverty pay for low and middle income workers and executive excess at the top.
Over the last decade, HPC has played a key role in shaping policy and practice in relation to executive pay, corporate governance, employment rights and responsible business.