Thursday 22 January 2015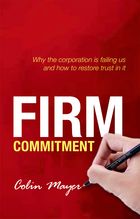 6:00pm
32-36 Loman Street
Lower ground conference room
London SE1 0EH
Join the High Pay Centre and Professor Colin Mayer to discuss his book Firm Commitment: Why the Corporation is Failing and How to Restore Trust in It.
Professor Mayer is the Peter Moores Professor of Management Studies at Said Business School.  He is an expert on corporate finance, governance and taxation, and the regulation of financial institutions.  In his book, Firm Commitment, he explores the role of the corporation in modern society and explains why its problems are growing.  The book gives perspectives among other things on the crises in the financial markets, developing countries, and the environment.
This discussion will be followed by a wine and canapés reception.  This event is free and open to the public but RSVPs are required.  Please email Kathryn.nash@highpaycentre.org to reserve your place.