Vince Cable believes his new rules on top pay have had an impact, but he would now require companies to reveal their pay ratios and give more voice to employees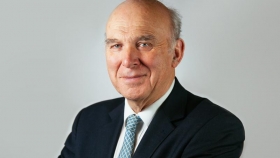 At the High Pay Centre's event on Tuesday, former business secretary, Vince Cable, discussed the impact of the 2013 pay regulations.
There had been some effect from revealing the single figure for chief executive pay and giving shareholders a binding vote on three-year pay policy: "But clearly not a huge impact," he said.
He would now go further and he discussed two recommendations that the High Pay Centre has advocated.
"There are a couple of things we didn't do that I would now be in favour of." One is the requirement on companies to publish a pay ratio between the top and the rest of the workforce – "it's a simple metric."
The other is the inclusion of workforce views on pay deliberations for top bosses. The issue of workers on boards and remuneration committees was discussed when the new rules were being drawn up. "The prevailing view was that it wasn't the right approach, but having reflected on it, there is a case for strengthening the employee voice in pay."
He suggested that companies could be required to consult the workforce on executive pay: "it would exercise a little bit of extra scrutiny."
He said the pay reforms had prompted investors to think more long-term, but there was still some way to go. Linking chief executive pay to performance of the share price can have "perverse consequences". There are many ways to boost the share price – by cutting investment, for example. Companies often use their surplus cash to buy shares rather than invest in the long-term success of the company.
"Linking performance to the share price can be a form of corruption," Mr Cable said.
He focused on wealth as a way of tackling inequality rather than just incomes, particularly the distortions in the housing market in the UK which unlike in the US and Spain, has not burst.
Vince Cable's new book: After the Storm, reflects on the outlook for the economy in the wake of the financial crisis.
He said the British economy was still connected to the life support of ultra-cheap money and there was a chance it might not be possible to wean it off. There may even be the need for more QE if we face another downturn. This in turn distorts the distribution of wealth as it boosts asset prices.