Major banks announce double-digit increases in bid to retain talent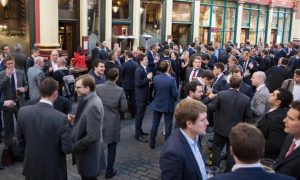 In the past week the UK's major banks have been announcing the biggest boosts to banker bonuses since the financial crash. The banks argue that the double-digit increases are necessary as part of a 'war for talent', in which the major banks tussle to hold onto their best people.
In 2021 banks benefited from a boom in corporate deals, rising interest rates and lower-than-expected losses on loans handed out through the pandemic. They are now funnelling these higher than expected earnings to bankers in their bonuses.
Following the announcement yesterday that Barclays has increased its staff bonus pool by 17% to £1.3bn, HPC Executive Director Luke Hildyard responded saying,
"Banks have benefitted because we are hopefully over the worst of the pandemic and financial activity is increasing. It's difficult to attribute victory over Covid to the banking industry. The bonus pools reflect the entitlement that a very small number of financial services professionals feel they have towards a disproportionately large share of the wealth created across the economy as a whole rather than a reward or incentive for good performance.
In this context the argument that bankers' pay is necessary to attract or retain talent seems especially weak. The struggle to overcome Covid and return to a more benign economic environment, which has been the big determinant of the banks' financial performance, wouldn't have been any faster or slower if bankers' had been paid differently.
People are not born with an innate talent for banking and a time when there are more university graduates, more people wanting to go into professions like banking than ever, if banks still need to pay increasingly extreme amounts of the company's money to recruit people with the right capabilities, that is something of an indictment of their training and development practices."
Our views on the increase to bankers bonuses have been covered in the Guardian, the Times and the Daily Mail. Luke has also discussed the issue in more depth on the Evening Standard's 'The Leader' podcast.