Media coverage of High Pay Day 2022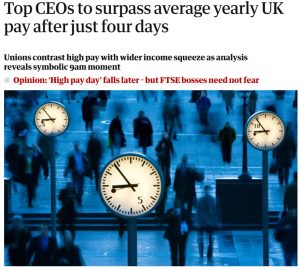 This year for the first time in over a decade a FTSE CEO would have to work into a fourth day in order for their earnings to surpass what a typical worker will earn in a year.
This still means that the median CEO is paid 86 times that of the annual earnings of the median UK worker and the story was covered in a wide range of outlets including Sky, the Guardian,  the Times, the Independent, Metro.
High Pay Centre Executive Director Luke Hildyard gave interviews on BBC Radio Scotland, Talk Radio and GB News to discuss the day.
Luke's interview with GB News' Economics and Business Editor Liam Halligan can be watched below.