The latest in a series of events marking the 10 year anniversary of the High Pay Centre (14:00-15:00, Wednesday 19 May)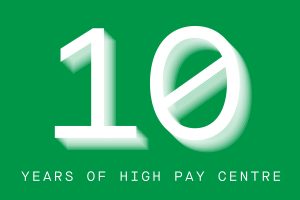 Watch the discussion in full here
Date/time: Wednesday 19 May 2021, 14:00 – 15:00
Speakers
Catherine Howarth, CEO, Share Action
Faith Ward, Chief Responsible Investment Officer, Brunel Pensions Partnership
To mark ten years since the founding of the High Pay Centre, we are holding a series of events covering the themes of our work. The discussions will look at how policy, practice and debate have changed over the past decade, and how they might do so in future.
The second event of our series will be a discussion on responsible investment. This topic was still an emerging and often poorly-understood concept when the High Pay Centre was founded, but over the past ten years has grown in importance and influence. The Covid-19 and climate crises have both accelerated this trend, as investors have come under greater pressure not to fund companies who cause harm to people and planet.
But while it seems that there is great enthusiasm in the investment industry for concepts such as Environmental, Social and governance (ESG) or impact investing, there is still considerable scepticism. Are investors increasingly now aligning their practices with the interests of the environment and wider society, or are the changes largely superficial ones intended to launder the industry's reputation and attract business from those who are responsibly minded?
Our speakers will reflect on their roles working in this space past 10 years, discussing how they think things have changed and what progress has been made. They will also share their views on what they think still needs to be done to ensure that the investment industry serves both the interests of their clients and the wider society, economy and environment in which they are situated.
Faith Ward
Faith is currently Chief Responsible Investment Officer for Brunel Pension Partnership and
Chair of the Institutional Investors Group on Climate Change (IIGCC). Faith's other roles include member of the Ethics Investment Advisory Group for the Church of England National Investing Bodies; member of SASB's Investor Advisory Group; co-chair of the European and UK Working Group of SASB; and member of the Financial Reporting Council (FRC) Investment Advisory Group and is a Climate Ambassador for the National Federation of Women's Institutes.
Catherine Howarth
Catherine joined ShareAction as Chief Executive in 2008. ShareAction coordinates civil society activism to promote responsible investment across Europe. She is a board member of the Scott Trust, owner of The Guardian, serving on the Scott Trust's investment committee. She also serves on HM Treasury's Asset Management Taskforce. She was a Member Nominated Trustee of The Pensions Trust for five years until Spring 2013. Catherine was recognised by the World Economic Forum as a Young Global Leader in 2014.