An analysis of workforce reporting in the FTSE 100 and recommendations for action. (13:00-14:00, Tuesday 8 March)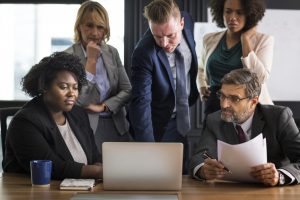 Watch the discussion in full here.
Speakers:
Peter Cheese – Chief Executive, CIPD
Joe Dabrowski – Deputy Director of Policy, Pensions and Lifetime Savings Association
Caroline Escott – Senior Investment Manager, Railpen
Rachel Kay – Researcher, High Pay Centre
This event will launch new research carried out by the High Pay Centre for the CIPD, the Pensions and Lifetime Savings Association and Railpen, examining the quality and quantity of workforce-related disclosures by FTSE 100 companies in their annual reports.
A company's workforce is absolutely critical to its business strategy and its case for investment. Its employment practices determine to a great extent the value it generates for society, in terms of the pay, opportunities for career progression and working conditions it affords its workers. Therefore, it is vital that stakeholders are able to understand the composition, stability, capabilities and wellbeing of the workforces of Britain's biggest businesses, who between them employ several million people and absorb invested capital worth trillions.
Our new research analyses the performance metrics and narrative reporting on workforce-related issues in annual reports, comparing how leading companies measure, manage and communicate their performance as an employer.
At this launch event, we will present the findings, after which a panel of experts will discuss their implications.