Monday 20 April 2015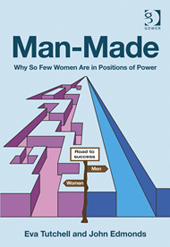 12:30pm
32-36 Loman Street
Lower ground conference room
London SE1 0EH
Why are so few women in positions of power? Why are government, business, the institutions, and so much of British life dominated by men? 
Please join the High Pay Centre and authors Eva Tutchell and John Edmonds to discuss their new book Man-Made.   The book is based on over one hundred interviews with successful women and seeks to discover what it takes for a women to get to the top.  Man Made provides a rigorous analysis of the inadequacy of current policy and proposes a more thoroughgoing programme to achieve fairness and inequality.
Eva Tutchell is an expert on gender issues.  Starting out as a secondary school teacher, Eva's work has covered all age groups.  Her book, Dolls and Dungarees, is recommended reading for all primary school teachers.  She has also published guidance for schools and colleges on disordered eating and has developed and taught a module on gender for use in universities.  John Edmonds is a trade unionist and specialist in work organisation.  Until 2003, John was General Secretary of the 700,000 member GMB trade union where he helped to increase representation of women throughout the union.  He is a Visiting Fellow at King's College, London, studying labour markets and gender equality.
Lunch will be served.  This event is free and open to the public, but RSVPs are required.  Please email Kathryn.nash@highpaycentre.org to reserve your space.