Today the Business Secretary Vince Cable announced reforms on executive pay which included a binding vote for shareholders every three years on "pay policy"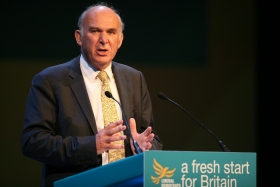 In response Deborah Hargreaves, Director of the High Pay Centre, said: It's disappointing that Vince Cable has backed off from imposing an annual binding vote on executive pay packages. There is a groundswell of public anger over excessive pay for company bosses at a time of biting economic austerity. We should not waste the momentum that has built up for far-reaching change to pay at the top.

If shareholders are only voting every three years, it is vital that they are voting on something meaningful and that it doesn't just turn into a box-ticking exercise. However, we have always questioned whether shareholders can hold companies to account on their own.

Even last year at a time of heightened scrutiny on pay, bosses' packages still rose by 12% while the rest of the workforce saw only a 1% increase in pay. There needs to be proper reform of remuneration committees including an elected employee, to present the sort of challenge that will tackle excessive pay.

The publication of a single figure for each executive's earnings is a good step forward, but will not be enough on its own to bring down top awards.