Monday 11 March 2013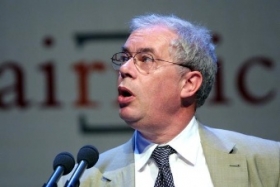 5:30pm
The High Pay Centre
32-36 Loman Street
London SE1 0EH
On 23 July 2012, Professor John Kay published the final report of his independent review to examine investment in UK equity markets and its impact on the long-term performance and governance of UK quoted companies. Vince Cable, secretary of state for BIS described the report as "an insightful and powerful review which describes vividly the flaws of the UK's financial markets and their relationships with investors and businesses."
In this report, John Kay examined executive remuneration and advocated a more long-term and sustainable approach to deciding pay packets.
In this seminar, John Kay will present the findings of his report and discuss their effects on executive remuneration.
John Kay is one of Britain's leading economists.  His interests focus on the relationships between economics and business.  His career has spanned academic work and think tanks, business schools, company directorships, consultancies and investment companies.
This event will be held at the offices of The High Pay Centre.
Closest tube station: Southwark and London Bridge
Map & directions available here.
Refreshments provided.
The event is free of charge but places are limited.
To reserve a place, please send us an email.