Monday 9 September 2013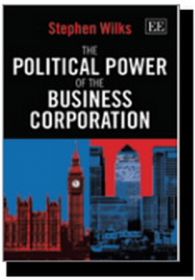 12:00pm
The High Pay Centre
32-36 Loman Street
London SE1 0EH
In his new book The Political Power of the Business Corporation Professor Stephen Wilks discusses the emergence of what he calls 'the new corporate state.'
As the role of private companies in public services increases with employees of major private consultancies occupying more and more senior positions in the civil service; and as political parties are depending more on the private donations and public endorsement of business figures, the distinction between government and the corporate world is becoming increasingly unclear.
A succession of recent scandals has brought the practice of lobbying into disrepute, but in a society where companies such as Vodafone and Starbucks treat paying tax as a voluntary act of corporate social responsibility, it is legitimate to question which out of the elected government and multinational business exercises the real power.

At this roundtable discussion, Professor Wilks will give a brief introduction to the different institutions, ideologies and processes that make up the new corporate state before a general conversation on how campaigners can effectively respond to this model of government.
Stephen Wilks is Professor of Politics at the University of Exeter where he was Deputy Vice Chancellor from 1999 to 2003. He qualified as a Chartered Accountant, went on to teach at the University of Liverpool, before moving to Exeter. He researches on comparative political economy with a special focus on relations between government and industry. He was a Member of the Economic and Social Research Council from 2001 to 2005 where he chaired the Research Strategy Board. His other main area of expertise is competition policy where he has written extensively. He served as a Member of the Competition Commission from 2001 to 2009 and is currently a Member of the Competition Appeal Tribunal.
This event will be held at the offices of the High Pay Centre.
Closest tube station: Southwark and London Bridge
Map and directions are available here.
Refreshments and sandwiches will be provided.
The event is free of charge but places are limited.
To reserve a place, please email hannah.orourke@highpaycentre.org