CEOs' earnings for 2022 surpass the median UK full time salary just prior to 09:00am on Friday 7 January.
High Pay Centre research suggests the median FTSE 100 CEO's earnings for 2022 will surpass the median annual wage for a full-time worker in the UK by around 09:00am on Friday 7 January.
The calculations are based on a previous High Pay Centre analysis of CEO pay disclosures in companies annual reports, combined with government statistics showing pay levels across the UK economy.
This is the first time since the High Pay Centre was founded in 2011 that CEOs have needed to work into a fourth day in order to make the same pay a full-time worker would make in a year.
The most recent figures on CEO pay showed a 17% fall to £2.7 million in 2020 from £3.25 million the previous year, in light of the temporary pay cuts and bonus cancellations many companies announced during the initial lockdowns following the outbreak of the Covid-19 pandemic. Most FTSE 100 firms have not yet announced CEO pay for their financial year ending in 2021, but 57% of those that have recorded an increase on 2020 levels.
In light of the huge pay gap between FTSE CEOs and the vast majority of workers, the High Pay Centre carried out polling with Survation on the public's views regarding high earners and how they make their money. The findings included the following:
77% of people agree that high earners have had advantages in life such as more expensive education, family money and connections.
71% agree that high earners benefit from government policy more than low/middle earners.
59% disagree with the statement that high earners do more valuable work than low/middle earners.
63% disagree with the statement that high earners work harder than low/middle earners.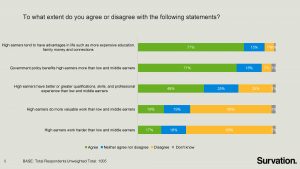 The boards that set executive pay justify very high pay-outs on the basis that those at the top work harder or do more important jobs than the rest of us, but these findings show that this assumption isn't shared by the general public. Policies such as putting workers directors onto pay-setting committees could introduce some valuable 'real world' perspective into decisions on pay.